Kathy Kulig is the New York Times & USA Today bestseller of erotic romance whose works include paranormal, contemporary, BDSM and suspense. She has published nearly 20 novels, novellas and short stories, including RED TAPE, part of the NY Times and USA Today bestselling SPICE BOX anthology. Her interest in mythology, quantum physics and the supernatural, and also her extensive background in science provide inexhaustible material for new projects. Her books are passionate and emotionally charged, sometimes with a little added humor, but there's always a steamy romance and a happy ending.
She has reached thousands of readers through newspapers, magazines, and e-zines and has been featured or quoted in the Chicago Tribune, Writer's Digest, Romantic Times Magazine, USA Today HEA, Florida Weekly, Bustle Magazine, The Examiner, and several radio shows. She has spoken at national and local conferences, writer's groups and libraries. She was also an active member with the Romance Writers of America, Pocono Lehigh Romance Writers, and Liberty States Fiction Writers.
Besides her career in writing, she has worked as a cytotechnologist, research scientist, dive master, bartender, and stringer for a newspaper. When she's not writing or dreaming up her next steamy story, she enjoys traveling, relaxing by the beach with a book, mountain biking, movies and dinners out. Kathy resides in eastern Pennsylvania with her husband and lives in a 100-year-old Victorian home, which has a garage built of rejected tombstones. Write to her at kathykulig@gmail.com.
Download a detailed press kit click HERE.
Out Now

Out Now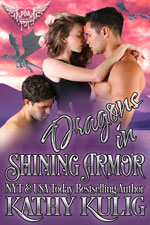 Out Now