Appearances | Workshops | Free Reads | What's New

3/23-25/18 Liberty States Fiction Writers Conference, Iselin, NJ. Also signing at the Book Fair on Saturday The Renaissance Woodbridge Hotel 515 US Highway 1 South Iselin, NJ 08830 from 4:30 – 6:30 For more information: http://www.libertystatesfictionwriters.com/conference/
6.4.16 Battle of the Books, Bethlehem Area Public Library, 11 Church St., Bethlehem, PA. From 2-4 pm. Author reading and book signing.
9.20.14 Michael Perry Hair Studio. Book signing from 10:00- ?? Also check out their FB page:Let them know you're coming! I'll have a giveaway for a basket of goodies too!
10-17-19, 2014 NJ Romance Writers Put Your Heart in a Book Conference.
October 9-12th Romancticon, Akron, Oh I'll be participating in two workshops:
Beyond Vampires & Werewolves with Lisa Carlisles & Lisa Fox
How to Research Erotic Romance: With or Without the Flogging with Cindy Jacks & Wendy Zwaduk.

Good to Great - A Writer's Path to Excellence
What makes a good writer great? Multi-published author Kathy Kulig will discuss techniques on how to transform your writing and career from good to great. She'll share tips from best-selling authors on how they took their writing to the next level.
Screenwriting Tips for Building a Novel
Kathy has taken workshops with award winning screenwriters/producers Bill Pace, Michael Hauge and Robert Gately. She believes all novelists should take a screenwriting course even if you never plan to write a screenplay. This workshop is especially helpful for plotting a novel—beginner to advanced writers.
Shy Girls Guide to Writing the HOT Stuff -- Steamy, racy stories sell and not just for the romance market. Sex scenes are found in thrillers, science fiction, horror, comedy, etc. But whether or not you want to write for the erotic romance market, adding love scenes, or even a little sexual tension, takes skill and planning. This workshop talks about love scenes, how to write them with emotion, conflict, depth of character and more. A love scene isn't just about the sex and sex isn't all choreography.
Kathy is also available to speak a libraries and local groups on various topics about writing and publishing. Contact her at kathykulig@rcn.com for more information.

Click on the following titles to read them here, online, now!
"To Kill a Vampire Hoax"
(published on Lady Jaided Newsletter)
My article "To Kill a Vampire Hoax" was published in the Lady Jaided Newsletter, a publication of Ellora's Cave Romantica®.
"The only casualties of vampire killing kits might be buyers' bank accounts..." Read the full article here.
6.1.17 New Release and Contest: Naughty Getaways: Eleven Sultry Stories releases today! Check out my book page for the buy links. And the Naughty Literati authors are holding an awesome CONTEST. Enter for a chance to win a 7" Kindle Fire loaded with ebooks. Click HERE for more information.
9.3.15 Podcast interview on Time Out with Bill Hendrickson on WCOM.FM On writing and research erotic romance.
11.30.14 NEW Release: Write to Success- Eight NY Times & USA Today bestselling authors share self-publishing tips. My first non-fiction title!
10.26.14 – NEW Print Release: Mutual Sins, a co-authored anthology with Kathy Kulig and Dalton Diaz will be released at Ellora's Cave on Nov. 3rd.
10.26.14 - NEW Release: What to Read After FSOG, Vol. 7 was released today for a limited time.
10.22.14 - NEW Release: Burned Deep, my new futuristic steampunk was released today.
7.11.14 NIGHTLORD LOVER, my new erotic vampire romance from Ellora's Cave, will have an early release date: July 23rd.
7.9.14 We did it!! SPICE BOX hit the New York Times and USA Today lists! #13 on the USA Today list and #6 for the NY Times list.
6.20.14 SOLD! A new futuristic erotic romance was sold to Ellora's Cave called Burned Deep.
5.16.14 SPICE BOX -16 Steamy Stories, a hot new boxed set of erotic romance eBooks with several New York Times and USA Today bestsellers is available for pre-order $0.99. Release date is June 29 for one month only.
4.18.14 NIGHTLORD LOVER was accepted at Ellora's Cave. It's book one of a new vampire series.
2.24.14 I'm thrilled to announce to be included in a boxed set with 15 other authors including NY Times and USA Today Bestselling authors. My book is an erotic suspense with BDSM titled RED TAPE and will be released on or around the same date. May 30.
2.1.14 SOLD! "Steel Reflections", a BDSM short erotic romance story to Cleis Press for their BDSM anthology. Release date TBA.
2.18.14 Interview in The Chicago Tribune
2.6.14 Wild Country Radio 96.5 - Interview for Valentine's Day
2.4.14 The Woman Radio 1380 - Interview for Valentine's Day
1.31.14 Albany Student Press – Author interview
1.22.14 Bustle Magazine – "I Spent the Night in a BDSM Dungeon…All in the Name of Research"
1.3.14 Morning Call – "Fifty Shades of Easton: Author Writes Erotic Romance Novels"
12.18.13 The KiddChris Show - Radio interview

12.2.13 The Express Times – "Easton Author Finds Her Passion in Erotic Fiction"
12.18.13 I was interviewed by Florida Weekly Magazine. Talking about Naughty Christmas gift ideas. Check out the article here
12.18.13 Two articles were published in www.BlastMagazine.com A kind of He said, She said set of articles. One in the men's section of My Story and one in the women's section.
The first one is titled: "My Wife Writes Erotica" Click HERE to read the article.
The other one: "I'm a Loving Wife Who Writes Erotica" Click HERE for the full article.
12.10.2013 I have a Goodreads Book Giveaway to celebrate the print release of Damned and Defiant, Book 3 in my Demons in Exile series on 12.31.13 by giving away 5 copies of Damned and Desired, Book 2. Click here to enter. Contest ends 12.30.31.
10.24.13 Release day for SUMMER SINS is 11.15.13. Check out my Blog on that day for Contest and chances to win prizes.
9.15.13 SOLD! Short story to Ellora's Cave: Risky Pleasures, a prequel to the Demons in Exile series.
7.4.13 SOLD! New book to Ellora's Cave. Summer Sins, an erotic contemporary romance with BDSM elements. It's a stand-alone story and Book 2 in the Tropic series. (Book 1: Spring Break)
11.10.12 Virtual Book tours ended. Go to Contest page for winners.
10.30.12 Work and Play Anthology Released at Ellora's Cave.
10.12.12 Received Super Star Award at RomantiCon for Damned and Defiant.
8.14.12 Check of the details of the Name Before the Masses Virtual Book Tour on the Contest page.
7.12.12 I'll be reading from one of my stories and signing books at the Riverside Festival of the Arts in Easton, PA September 22, 2012. http://bit.ly/LMYuh8
7.1.12 Spring Break will be included in an anthology titled WORK AND PLAY with two other novellas. His Toys by Ruby Storm and Mixing Business with Pleasure by Virginia Cavanaugh. Release date will be at Romanticon Conference October 13, 2012.
4.13.12 Spring Break released today at Ellora's Cave!
4.11.12 Spring Break Road Trip Blog tour begins on April 13. Check out Kathy's Blog for information on dates, blogs, and prizes to be given away.
1.31.12 SOLD! Spring Break a contemporary erotic romance novella was sold to Ellora's Cave, the first of a planned series.
1.24.12 I was interviewed by Joyce Lamb at USA Today – Happy Ever After blog.
If you'd like to check it out, here's the link: http://bit.ly/xjilVg
12.20.11 Something Wicked This Way Comes Anthology, released today on Amazon and B & N. It hit the New Release Best Seller list!
11-1-11 Romanticon '11 Won a Superstar Award for Emerald Dungeon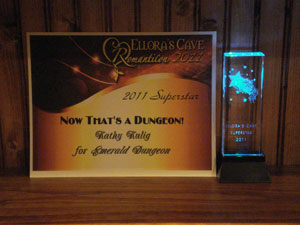 08.03.11 THE TATTOO WITCH was accepted by Jaid Black/Ellora's Cave for inclusion in a 4-volume series titled Something Wicked This Way Comes. I'm in Volume One.
07.15.11 EMERALD DUNGEON will be included in a print anthology titled Dial B for Bondage for the 1-800-DOM-help series.
6.13.11 I'll be at the Happy Ending Lounge in NYC on July 1st from 8-10 pm for a reading from EMERALD DUNGEON. The event is called Ravenous Nights.
5.22.11 DRAGON WITCH is a 2011 PRISM Award Finalist in the Novella category. Winners will be announced at the FF&P Gathering during the RWA National Conference.
3.15.11 Release Date for EMERALD DUNGEON – Coming up fast: March 23rd!
2.24.11 New Sale! EMERALD DUNGEON. I just sold a new book to Ellora's Cave titled Emerald Dungeon, a contemporary erotic romance and part of the 1-800-DOM-help author series. Release date TBA.
10.28.10 SECRET SOIREE, a contemporary erotic romance Quickie will be released on November 26th at Ellora's Cave
10.26.10 DAMNED AND DESIRED finaled in the EPIC eBook Awards 2011 for the Erotic Paranormal Romance category!
10.20.10 DRAGON WITCH received a Top Bite Award from Bitten by Paranormal Romance

10.12.10 New Sale! My editor at Ellora's Cave has contracted a Quickie from me entitled Secret Soiree. Release date TBA.
10.1.10 DAMNED AND DESIRED is now available in print.